The Children's Defense Fund reports that one in 10 children has a mental illness serious enough to impair his or her home and school functioning. But with a shortage of child psychiatrists nationally, access to behavioral health treatment is a significant problem for children and their families. As a result, many do not receive the specialty treatment they need.
Children are more likely to be seen by trusted primary care physicians (PCPs) rather than behavioral health specialists; however, PCPs sometimes lack the necessary tools and resources to conduct behavioral health screenings or prescribe psychotropic medications.
Child Psychiatry Access Programs (CPAPs) can help improve access to treatment for these children and their families by making child psychiatry services accessible to PCPs. Beacon operates CPAPs that support children enrolled in Medicaid in Massachusetts, Connecticut, and Colorado.
The Massachusetts Child Psychiatry Access Program (MCPAP), based on a UMASS pilot program, provides telephonic child psychiatry consultation and specialized coordination support to more than 98 percent of the pediatric primary care providers in Massachusetts.
MCPAP goals
Increase pediatric PCP knowledge, skills, and confidence to manage children in primary care with mild to moderate behavioral health needs (for example, ADHD, depression, anxiety)
Mitigate the shortage of child psychiatrists by promoting the rational utilization of psychiatrists for the most complex and high-risk children (for example, children whose conditions require treatment with complex or multiple psychiatric medications)
Advance the integration of behavioral health and pediatric primary care
Key program features
Established in 2004, the program consists of six regional hubs, each of which has one full-time-equivalent child psychiatrist, licensed therapist, and care coordinator. Collectively, the hubs are available to meet the psychiatric consultation needs of PCPs responsible for all 1.5 million children living in Massachusetts.
We help pediatric care providers build capacity to meet their patients' behavioral health needs through:
Real-time telephone consultation with our child psychiatrists, within a maximum of 30 minutes
Face-to-face appointments with a child psychiatrist when indicated for acute psychopharmacology or diagnostic evaluation
Assisting providers and families to access community-based behavioral health services when needed
MCPAP has provided critical education and training to PCPs and their staff in behavioral health screening; prescribing and managing psychiatric medications for mild to moderate mental health conditions such as ADHD, depression and anxiety; and concerning symptoms such as self-injury. Pediatric primary care providers enrolled in the project reported a dramatic improvement in their ability to meet the psychiatric needs of their patients.
MCPAP results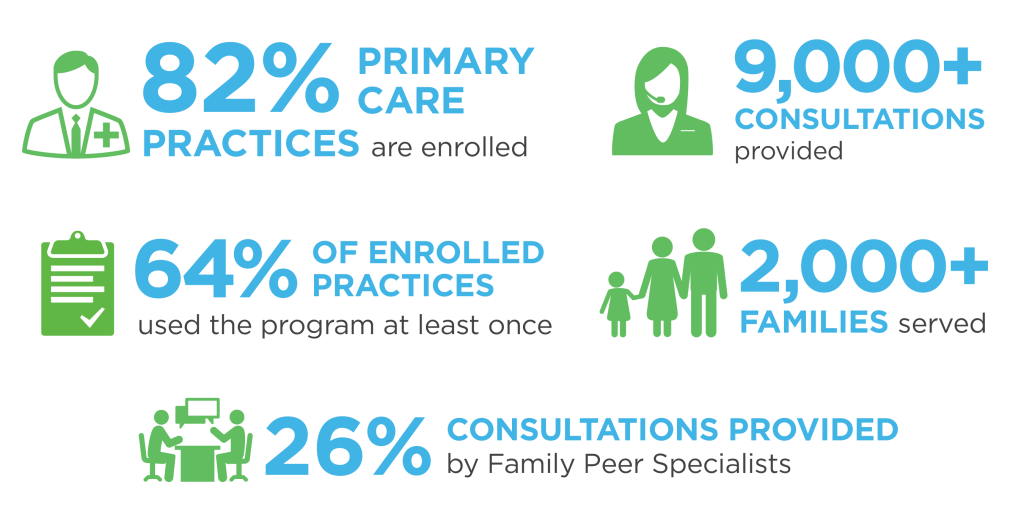 A national impact
As other states develop similar models, variations of the MCPAP have been implemented in 30 locations and our staff have often provided technical assistance to support them. MCPAP also led to the formation of the National Network of Child Psychiatry Access Programs (www.nncpap.org) to support and develop CPAPs across the country.
For more information about the MCPAP, visit www.mcpap.com.