Beacon is committed to ending the stigma that surrounds discussions about mental health and substance use disorders. One way we do that is by encouraging our employees to talk openly and candidly about their own experiences. Angela Viesca, SPV Clinical Services, shares her story about losing a respected mental health colleague to suicide.

I think nearly everyone has been touched by the loss of someone to suicide. For some, it is the loss of a public figure; for others, that of a dear friend or loved one. Working in the field of mental health often exposes us to these losses as a matter of routine. We develop a healthy detachment in order to keep moving forward as professionals, to keep helping, to keep trying to make an impact, to reduce suffering, and to improve the quality of life of others.
This year, the mental health community lost one of its own. One of my colleagues, a seasoned and accomplished mental health professional, died by suicide. Even as a person who has been personally and professionally touched by suicide over the years, this was somehow a more keenly felt loss.
The survivor's guilt is tremendous. How could I, as a mental health professional, not see the signs and avert the tragedy? Logically, I know this is not my fault, nor anyone's. Emotionally, there is an ache that remains and will be carried to some degree always.
In the days following the loss, several of my colleagues and I discussed our friend's suicide and the signs we feel we did not see until we came together to share our experiences. The patterns were crystal clear in hindsight. However, the reality is that the individual events that we each experienced were so very subtle and enmeshed with the daily stressors of life and work. There was nothing that would have been alarming as an isolated occurrence. And in fact, many of us had reached out to our friend.
It is easy to get lost in thinking "I wonder…"
I wonder, was my colleague scared?
I wonder, was my friend at peace?
I wonder, did my colleague think we did not care?
I wonder, why didn't my friend let us in to support and help him?
As easy as it would be to remain in the land of the "I wonder," I can't stay there. I continue devoting myself to my mission of trying to help others, and I'm working to expand my skill set in order to assist those in need. I've since trained to become a Certified Compassion Fatigue Professional (CCFP) and am about to start Eye Movement Desensitization and Reprocessing (EMDR) training, a psychotherapy approach to treating trauma.
I see that others who have been touched by this loss are also traveling their own paths. They carry on the legacy of hope and healing that our friend helped to create, and are reaching out more along the way to maintain connection and support.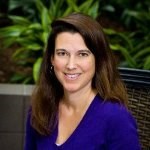 Nov. 18 is Survivor Day, a day for those affected by the loss of a loved one to suicide. Visit the American Foundation for Suicide Prevention's (AFSP) website for more information, or to find a Survivor Day event near you.