Connecting Families with Autism Care Services
Autism is a Growing Concern Among Families in the U.S.
Autism spectrum disorder (ASD) prevalence is increasing in the U.S., affecting 1 in 40 children nationwide. Even though interventions like Applied Behavior Analysis (ABA) are considered essential, there continues to be a shortage of quality providers. This shortage results in fewer families of children with ASD diagnoses getting the support they need to manage and treat this unique condition.
Autism treatment is prolonged and costly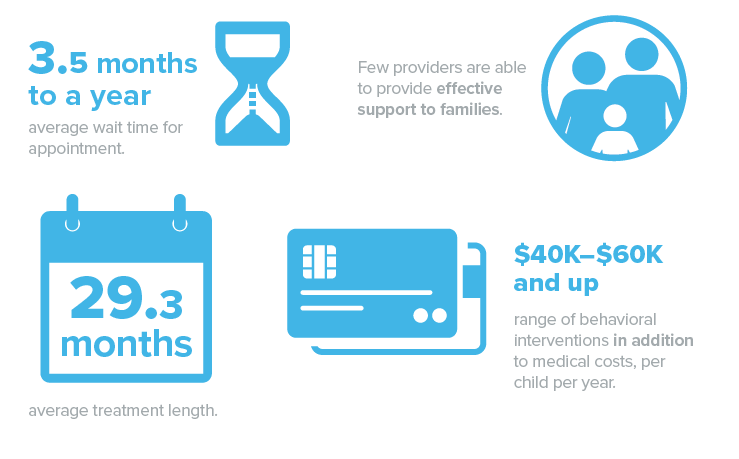 Empowering Families
Beacon helps families of children with ASD navigate and access the full range of health services. We work with health plans, employers, and other payers under a coordinated model of care to make critical services available to families, when and where they need it.
Our program works in multiple ways to ensure that children with ASD receive quality care and that their families are engaged and supported, offering:
Access to care. We put the deep knowledge of our in-network providers to work to support families and providers with high-quality referrals and ensure that the network itself remains robust.
Clinical care management. Our Board Certified Behavior Analysts (BCBAs) work with families to create an individualized, evidence-based, step-by-step plan for treatment, monitoring the child's progress closely to ensure that the plan is optimized. BCBAs conduct in-depth assessments of patients' physical, psychological, and cognitive function; personal care abilities; and other factors.
Full family support. We offer ongoing family coaching to educate and support families regarding the ASD diagnosis, available treatment options, family coping strategies, support groups, and advocating on a child's behalf.
ABA Treatment Success
Through our clinical expertise and active outcomes management, we monitor each child's functional gains at appropriate intervals along with system-wide performance improvement initiatives. We measure success through statistically driven outcomes, using real-time clinical and encounter data.
In a study of 200 cases, Beacon improved access and continuity of care, and delivered a 60% reduction in maladaptive behaviors.
Our average annual cost for ABA ranges from $15,000 to $31,000 per child, and for self-insured clients, from $18,900 to $28,600, both well below the CDC estimates of $40,000 to $60,000. Actual costs are dependent on cost share/benefit design and actual ABA provider rates.
Annual outcomes studies for public sector and commercial populations conducted since 2012 reveal significant increases in age-appropriate skills and decreases in problematic and stigmatizing behaviors.