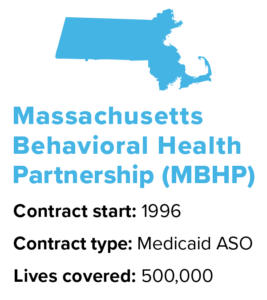 Although Massachusetts has the highest health insurance coverage of any state – with an uninsured rate of 5% or below – gaps in care continue to exist, putting pressure on the state's crisis and emergency services. Beacon Health Options' MBHP manages the state's Emergency Services Program (ESP) whose network provides behavioral health and substance use disorder crisis services for anyone who is covered by MassHealth or Medicare as well as for the uninsured. The program's intervention and stabilization services can occur anywhere in the community, helping to prevent unnecessary emergency department (ED) use.

Crisis services in Massachusetts focus on resolving crises where individuals experience them in support of their journey through the five phases of crisis-system involvement. Available 24/7/365, the state's Emergency Services Program/Mobile Crisis Intervention includes ESP community-based locations; mobile crisis intervention for both youth and adult; and adult community crisis stabilization. Additionally, the program offers a web-based search tool that enables providers, EDs and other stakeholders to locate available services.
Lower inpatient admissions with community-based ESP evaluations
Resulted in 22% inpatient admissions for adults compared to 45% evaluated in EDs
Improved treatment options through crisis expertise
Familiar with the community-based system, ESPs know the many treatment options for more appropriate referrals to services
More appropriate care with better linkage to community-based services
Faster response enables real-time assessments to best determine the most appropriate care
ED assessment average: 90 minutes
ESP community assessment average: 29 minutes
Delivering results: Individuals stay out of the hospital when appropriate, improving their long-term chances at recovery.
| | | |
| --- | --- | --- |
| 2010 Mobile Crisis Intervention (MCI) inpatient admissions for ages 0-20: 23% | vs. | 2016 MCI inpatient admissions for ages 0-20: 18% |