For more than 35 years, Beacon has been an industry leader in Employee Assistance Program and behavioral health care delivery. Our products, services, and innovations are solutions that align with our customers and the individuals we serve. Beacon's recent awards include the following.
---
Mental Health America (MHA) has awarded Beacon its platinum certification for The Bell Seal for Workplace Mental Health, MHA's new national employer certification program. The Bell Seal recognizes employer advances in workplace mental health by awarding levels of bronze, silver, gold and platinum. Organizations are assessed on five categories: workplace culture; health insurance and benefits; employee perks and programs; legal compliance; and leadership and community engagement.
---
Beacon is proud to have won the 2019 NICE Rookie of the Year Award for Workforce Management (WFM), beating a pool of 30 organizations that were up for the distinction.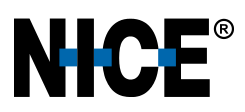 This category was created to recognize organizations that utilized best practices during the implementation of a solution from NICE's product portfolio in the 2018 calendar year. Candidates were judged based on the timeline for positive results and overall adoption for WFM solutions. Baseline metrics and post-implementation metrics were reviewed to determine which organization experienced the greatest improvement.
Award winners for NICE's 2019 award programs were selected for excellence in vendor communication and partnership, implementation best practices including the efficiency of the roll-out, product/solution adoption, and training of agents and supervisory staff.
---

Best Delivery of critical incident response services, presented at EAPA 2018 Conference and EXPO, for our work with client HCA
Excellence in EAP Business Development Award, presented at EAPA 2017 Conference and EXPO, EY (formerly Ernst & Young) for their work with the "R U O.K." stigma reduction campaign
---
Gold 2017 eHealthcare Leadership Award for Best Annual of Special Report by HMO/PPO/Other Insurers for our 2016 white paper, "Integration."
---

For 11 of the last 15 years, Beacon customers have been the recipient of the industry's highest recognition, the Employee Assistance Society of North America (EASNA) Corporate Award.
---
For five years Beacon Health Options' Connecticut operations have been named one of the top places to work in Connecticut.